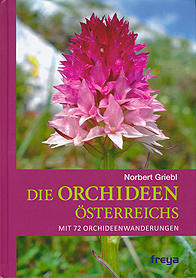 Elke soort heeft een QR-code die rechtstreeks naar een verspreidingskaartje op de internetpagina http://www.freya.at/orchideen/orchideenlinkverzeichnis
De inleiding vermeldt dat Oostenrijk 77 orchideeënsoorten telt en 18 geslachtshybriden. Daarnaast worden ook 10 ondersoorten en 7 variëteiten vermeld. Dat is in het totaal dus 94 taxa.
Minstens 66 personen werkten op een of andere manier mee aan dit boek.
Een overzichtelijke tabel vermeldt de taxa en in welke van de negen Oostenrijkse deelstaten die voorkomen.
Het hoofdstuk 'Orchideen sind Täuschblumen' toont erg op de orchideeën gelijkende bloeiwijzen. Het zijn 'wisselbloemen'. Orchideeën lokken de bestuivende insecten door de gelijkenis aan die bloemen. Het nut van die plantensoorten voor de bestuiving van de orchideeën wordt dan ook uitgelegd in 'Warum täuschen so viele Orchideenarten?' Die 'wisselbloemen' belonen de insecten met nectar of stuifmeel, orchideeën doen dat meestal niet.
De 'Gattungsschlüssel', sleutel tot de orchideeëngeslachten, helpt bij het bepalen in welk geslacht een orchidee in dit boek kan gevonden worden. Zoals bij de meeste sleutels het geval is, is ook deze sleutel een tool dat vooral door ingewijden of ervarenen zal gebruikt worden.
Vanaf p. 23, Anacamptis, tot en met p. 327, Traunsteinera, worden alle in Oostenrijk gevonden orchideeën besproken. Hierbij wordt de meest recente nomenclatuur gebruikt. Hierbij moet ik wél melden dat de auteur kiest voor de geslachtsnaam Nigritella en niet voor Gymandenia. IPNI vermeldt zowel Nigritella als Gymnadenia als gelijkwaardig zonder verder commentaar (http://www.ipni.org/ipni/ dd. 23-01-2014). The Plant List vermeld Nigritella als synoniem van Gymnadenia (http://www.theplantlist.org/ dd. 23-01-2014).
Norbert Griebl, de auteur, motiveert zijn keuze voor Nigritella als volgt: "… Ondertussen heeft echter de uitbreiding van het moleculair-genetisch onderzoek tot een stamboom geleid waarin Nigritella buiten Gymandenia staat wat ervoor pleit om Nigritella weer als een geslacht op zich te beschouwen (Pillon & al.).
Bij alle behandelde soorten wordt vermeld: de wetenschappelijke naam en de auteur(s) van die naam, het type,(bruikbare) synoniemen, Duitstalige (Oostenrijkse) volks- en boeknamen, korte maar relevante beschrijving van plant en bloem, bloeitijd, verwisselingsmogelijkheden, verspreiding en verspreidingskaartje, habitat en hoogtes waar de planten groeien, systematiek en variabiliteit, bestuivers, eventueel bemerkingen en de gekende natuurhybriden. De foto's die deze beschrijvingen illustreren zijn mooi tot zéér mooi, prachtig zelfs.
Van p. 328 tot en met p. 475 worden 72 orchideeënwandelingen besproken, verdeeld over elke deelstaat van de staat Oostenrijk. Die besprekingen zijn geïllustreerd met mooie foto's van bloemen die tijdens die wandelingen kunnen gezien worden.
Het boek sluit af met een uitgebreide bibliografie.
Besluit.
Jaarlijks reizen veel bloemenliefhebbers tijdens het voorjaar en de zomer naar Oostenrijk om te genieten de overweldigende schoonheid van de Oostenrijkse flora. Dit mooie boek is een zeer waardevolle bijdrage tot de kennis van de Oostenrijkse orchideeënflora en bij uitbreiding van de Europese orchideeënflora. Het is meer dan een aanrader voor al wie naar Oostenrijk en de Alpen reist om van allerhande bloemen en dus ook orchideeën te genieten.
Rik Neirynck, januari 2014.
top



Each species has a QR code to go directly to a distribution map on the web page http://www.freya.at/orchideen/orchideenlinkverzeichnis

The introduction informs that Austria has 77 orchid species and 18 intergeneric hybrids. Also 10 sub-species and 7 varieties are noted. This is the total of 94 taxa .
At least 66 people contributed to this book in one way or another.
A table lists the taxa and in which of the nine Austrian states they occur.
The chapter 'Orchids sind Täuschblumen' shows inflorescences of plants that are very similar to those of orchids. Orchids lure pollinating insects by the similarity of those flowers. Why these plant species are useful for pollination of orchids is explained in 'Warum täuschen so viele Orchideenarten?' Die 'Täuschblumen' (exchange flowers) reward the insects with nectar or pollen, orchids usually not.

The 'Gattungsschlüssel' (key) to the genera of orchids, helps determine under which genus an orchid should be found in this book. As with most key, this key is also a tool that mainly will be used by insiders or experienced people.

From p. 23, Anacamptis, up to and including p. 327, Traunsteinera, all orchids found in Austria are discussed. The most recent nomenclature is used. Hereby I have to add that the author chooses the genusname Nigritella and not Gymandenia . IPNI mentions both: Nigritella as Gymnadenia equivalent without further comment (http://www.ipni.org/ipni/ dd. 23-01-2014). The Plant List lists Nigritella as a synonym of Gymnadenia ( http://www.theplantlist.org/ dated 23-01-2014).
Norbert Griebl , the author motivates his choice Nigritella as follows: " ... the meantime, however, the expansion of the molecular - genetic research led to a tree where Nigritella is outside Gymandenia which advocates for to consider Nigritella itself as genus name (Pillon & al.).

For all treated species is listed: the scientific name and the author(s) of that name, the type, (usable) synonyms, German (Austrian) folk and book names, brief but useful description of plant and flower, flowering time, substitution possibilities, distribution and distribution maps , habitats and altitudes where the plants grow, systematics and variability, pollinators, any comments and the known natural hybrids. The photos that illustrate these descriptions are nice to very nice or superb.

From p. 328 too p. 475 72 orchid walks are presented, spread over every state of Austria. Those presentations are illustrated with beautiful photographs of flowers that can be seen during those walks

The book concludes with an extensive bibliography.

Conclusion.
Every year, many amateurs of flower travel to Austria during spring and summer to enjoy the stunning beauty of the Austrian flora. This beautiful book is a very valuable contribution to the knowledge of the Austrian orchid flora and enlargement of the existing European orchid flora. It is more than a must for anyone who travels to Austria and the Alps to see all sorts of flowers, the orchids in particular.
For those who do not read, speak or understand German: the pictures speak for themselves.
Rik Neirynck, januari 2014.
top



Jede Art hat einen QR-Code die direkt auf eine Verbreitungskarte linkt der Webseite http://www.freya.at/orchideen/orchideenlinkverzeichnis

Die Einführung erklärt dass in Österreich 77 Orchideenarten, 18 Gattungen und Hybriden zu finden sein, auch 10 Unterarten und 7 Varietäten. Dies ist insgesamt 94 Taxa .
Mindestens 66 Orchideenfreunde haben in einen oder anderen zu diesem.

Eine Tabelle listet die Taxa und wo in dem der neun österreichischen Bundesländer die vorkommen.
Die Kapitel 'Orchideen Sind Täuschblumen' zeigt zu den Orchideen sehr ähnliche Blütenstände. Diese sind 'Wechsel Blumen'. Orchideen locken bestäubenden Insekten durch die Ähnlichkeit dieser Blumen. Die Nützlichkeit dieser Pflanzenarten für die Bestäubung von Orchideen ist erklärt in 'Warum täuschen so VIELE Orchideenarten?' Die 'Wechsel Blumen' belohnen die Insekten mit Nektar oder Pollen, Orchideen in der Regel nicht.

Die 'Gattungsschlüssel' zu den Gattungen der Orchideen hilft festzustellen in welches Gattung eine Orchidee in dieses Buch zu finden ist. Wie bei den meisten Pflanzenschlüssel der Fall ist, ist diese auch ein Werkzeug, das hauptsächlich durch Insidern oder Erfahrenen verwendet werden soll.

Von p. 23, Anacamptis, bis zu und einschließlich p. 327, Traunsteinera, sind alle in Österreich gefunden Orchideen diskutiert. Dabei wird die letzte Nomenklatur verwendet. Dabei muss ich sagen, dass der Autor die Gattungsname Nigritella wählt und nicht Gymandenia. IPNI erwähnt sowohl Nigritella und Gymnadenia als Äquivalent ohne weiteren Kommentar ( http://www.ipni.org/ipni/ dd. 23-01-2014). The Plant List hat Nigritella als Synonym für Gymnadenia aufgeführt ( http://www.theplantlist.org/ dd. 23-01-2014).
Norbert Griebl, der Autor motiviert seine Wahl Nigritella wie folgt : "... Inzwischen hat aber sie Ausdehnung der molekulargenetischen Analyse auf weitere Gene zu einen Stammbaum geführt in dem Nigritella ausserhalb von Gymnadenia steht, so dass nichts dagegen spricht, Nigritella wieder als eigenstaändige Gattung zu führen (Pillon & al.).


In allen behandelten Arten ist genannt: der wissenschaftliche Name und die Autor(en) mit, die Typus, (nutzbare) Synonyme, Deutsche (Österreichische) Volks- und Buchnamen, kurze, aber nützliche Beschreibung der Pflanzen und Blumen, Blütezeit, Verwechslungsmöglichkeiten, Verbreitung und Verbreitungskarten, Lebensräumen und Höhen in denen die Pflanzen wachsen, Systematik und Variabilität, Bestäuber, Kommentare und die bekannten natürlichen Hybriden. Die Fotos, die diese Beschreibungen veranschaulichen sind schön sehr schön, eben wunderschön .

Von p. 328 p. 475 sind 72 Orchideenwanderungen verteilt über jeden des Staates Österreich vorgestellt. Diese Wanderungen sind illustriert mit schönen Fotografien der Blumen, die während dieser Wanderungen gesehen werden können.

Das Buch schließt mit einer umfangreichen Bibliographie.

Entscheidung.
Jedes Jahr reisen viele Blumenliebhaber während der Frühling oder Sommer nach Österreich um die atemberaubende Schönheit der österreichischen Flora genießen zu. Dieses schöne Buch ist ein sehr wertvoller Beitrag zur Kenntnis der Österreichischen Orchideen Flora und so ebenfalls der Europäischen Orchideen Flora. Es ist mehr als ein Muss für jeden die nach Österreich und die Alpen reist um von Blumen und damit sicher die Orchideen zu genießen.
top
Chaque espèce a une code QR qui connecte directement à une carte de répartition sur la page web http://www.freya.at/orchideen/orchideenlinkverzeichnis

L'introduction indique qu'en Autriche il y a 77 espèces et 18 intergénéric hybrides d'orchidées. En surplus aussi 10 sous-espèces et 7 variétés sont mentionnées. On compte donc un total de 94 taxons.
Au moins 66 personnes ont d'une manière ou d'une autre contribué à ce livre .
Un tableau indique la liste des taxons et dans lequel des neuf états autrichiens ils sont présents.
Le chapitre 'Die Orchideen sind Täuschblumen' montre des inflorescences très similaires à celles d'orchidées. Les orchidées attirent les insectes pollinisateurs par la similitude avec ces fleurs . L'utilité de ces espèces de plantes pour la pollinisation des orchidées est expliqué dans 'Warum täuschen si viele Orchideenarten ?' Ces fleurs récompensent les insectes avec le nectar ou le pollen, les orchidées ne sont généralement pas si généreuses.

La clé, 'Gattungsschlüssel', aide à déterminer le genre une orchidée qui peut être trouvé dans ce livre. Comme avec la plupart de ces clés, cette clé est également un outil qui sera utilisé principalement par des initiés ou des expérimentés.

De p. 23, Anacamptis, jusqu'à et y compris p. 327, Traunsteinera, toutes les orchidées trouvés en Autriche sont discutés. La nomenclature utilisée est la plus récente. Par la présente, je dois dire que l'auteur choisit le genre Nigritella et pas Gymandenia . IPNI mentionne à la fois Nigritella comme Gymnadenia sans autre commentaire (dd. 23-01-2014 http://www.ipni.org/ipni/). La 'The Plant List' traite Nigritella comme synonyme de Gymnadenia (http://www.theplantlist.org/ date du 23-01-2014).
Norbert Griebl, l'auteur motive son choix pour Nigritella comme suit: "... Entre-temps, cependant, l'expansion de la recherche génétique moléculaire a conduit à un arbre généalogique où Nigritella se trouve dehors de celui de ​​Gymandenia et ça milite pour considérer Nigritella de nouveau comme un genre en soi (Pillon et al.)

De toutes les espèces traitées est noté : le nom scientifique et l'auteur (ou auteurs) du nom, le type, synonymes (utiles), des noms allemands (autrichiens) folkloriques, bref mais utile description de plantes et de fleurs, le temps de la floraison, les possibilités de substitution, diffusion et des cartes de distribution, l'habitat et des altitudes où les plantes poussent, systématique et la variabilité, les pollinisateurs, les observations et les hybrides naturels connus. Les photos qui illustrent ces descriptions sont agréables à très agréable, belle même, de très haute qualité.

De p. 328 à p. 475, 72 promenades d'orchidées sont proposés répartis dans chaque état ​​de l'état de l'Autriche. Les descriptions de ces promenades discussions sont illustrés avec de belles photos de fleurs sauvages qui peuvent être vus, y compris les orchidées.
Le livre se termine par une bibliographie complète .

Conculsion.
Chaque année, un grand nombreux d'amateurs de fleurs se rend au cours du printemps et de l'été vers l'Autriche pour admirer la beauté stupéfiante de la flore autrichienne. Ce beau livre est une contribution précieuse à la connaissance de la flore d'orchidée autrichien et l'élargissement de la flore d'orchidées européennes. Il est plus que un must pour tous ceux qui voyagent en l'Autriche et les Alpes pour admirer les orchidées.
Rik Neirynck, januari 2014.
top