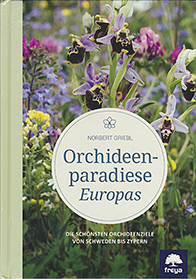 In seinem Buch "Die Orchideen Österreichs" (hier klicken!) hat Norbert Griebl alle in Österreich bekannten Orchideenarten beschrieben.
Natürlich gibt es viele Orchideen Standorten in Europa zu besuchen, von dieser Vielzahl von Standorten stellt er eine interessante Wahl vor, nämlich 85 europäische Orchideen Standorten, die mehr als einen Besuch wert sind. Mit diesem Buch reisen wir zu interessanten Orten in diesen Ländern:
Albanien, Bulgarien, Zypern, Dänemark, Deutschland, Estland, Frankreich und Korsika, Griechenland, Ungarn, Irland, Italien, Kroatien, Malta, Mazedonien, Montenegro, Niederlande, Österreich, Polen, Portugal, Rumänien, Slowakei, Spanien, Türkei, Süd Tirol, Schweden und die Schweiz.
In jedem Land präsentiert der Autor uns eine oder mehrere Orchideen Standorten mit eine Reihe von Pflanzen- und Orchideenarten die da leben.
Für jeden Standort achtet der Autor besonders auf eine bestimmte Orchideenart aus diesem Gebiet.
Das Buch ist mit schönen bis sehr schönen Fotos illustriert. Für jede Orchideenart, die pro Standort vorgeschlagen wird, gibt es eine europäische Vertriebskarte.
Das Buch endet mit einer Bibliographie.

Conclusion.
Dieses Buch ist nicht wirklich eine Orchideen Flora. Es ist ein sehr nützliches Buch, um Ausflüge und Besuche zu Orchideen Standorten zu planen, natürlich unter Berücksichtigung der Blütezeit der Arten, die an einem bestimmten Ort kommen. Obwohl der Autor in seiner Einleitung erklärt, dass er keine genauen Orte angibt, wird dieses Buch eine Anleitung geben und eine Hilfe sein, die Arten an den einzelnen Standorten zu entdecken, auch für jemanden, der nicht viel Erfahrung hat mit der Suche nach europäischen wilden Orchideen. Dieses Buch ist ein Muss und ein ungewöhnlicher Reiseführer. Und ... sobald die Reise auf der Grundlage dieses Buches geplant ist, wird natürlich klar dass eine gute Orchideen Flora unverzichtbar ist.
Hier finden Sie Informationen zur Orchideen Flora: hier klicken.
In his book 'Die Orchideen Österreichs' (click here!), Norbert Griebl described all orchid species known in Austria.
Of course, there are many orchid sites in Europe to visit, from this multitude of sites he made an interesting selection: 85 European orchid sites one should visit. With this book we travel to interesting sites in these countries:
Albania, Bulgaria, Cyprus, Denmark, Germany, Estonia, France and Corsica, Greece, Hungary, Ireland, Italy, Croatia, Malta, Macedonia, Montenegro, Netherlands, Austria, Poland, Portugal, Romania, Slovakia, Spain, Turkey, South Tyrol, Sweden and Switzerland.
In each country, the author presents us one or more orchid sites and lists a number of plant and orchid species that can be seen there.
For each site, the author pays extra attention to one specific orchid species from that area.
The book is nicely illustrated with beautiful to very beautiful photographs. For each per site prposed orchid species there is a European distribution map.
The book ends with a bibliography.

Conclusion.
This book is not an orchid flora. It is a very useful book to plan trips and visits to orchid sites, of course, taking into account the flowering period of the species that grow in a particular site. Even though the author states in his introduction that he does not give exact locations, this book will be a guide and help to discover the species in the individual sites, even for someone who has not much experience with looking for European wild orchids. This book is a must and an unusual travel guide. And... once the trip planned with this book, it will of course be clear that a good orchid flora is indispensable.
Here you can find information about orchid flora: click here.
In zijn boek 'Die Orchideen Österreichs' (klik hier!) beschreef Norbert Griebl alle in Oostenrijk gekende orchideeënsoorten.
Uiteraard zijn er in Europa heel wat orchideeënsites te bezoeken, uit die veelvoud van sites heeft hij een interessante keuze gemaakt, namelijk 85 Europese orchideeënsites die een bezoek meer dan waard. Met dit boek reizen we naar interessante sites in deze landen:
Albanie, Bulgarije, Cyprus, Denemerken, Duitsland, Estland, Frankrijk en Corsika, Griekenland, Hongarije, Ierland, Italië, Kroatië, Malta, Macedonië, Montenegro, Nederland, Oostenrijk, Polen, Portugal, Roemenië, Slovakije, Spanje, Turkije, Zuid-Tirol, Zweden en Zwitserland.
In elk land stelt de auteur ons één tot meerdere orchideeënsites voor en somt een aantal planten- en de orchideeënsoorten op die daar voor komen.
Per site schenkt de auteur extra aandacht aan één bepaalde orchideeënsoort uit dat gebied.
Het boek is mooi geïllustreerd met mooie tot zeer mooie foto's. Bij elke per site voorgestelde orchideeënsoort staat er een Europees verspreidingskaartje.
Het boek eindigt met een bibliografie.
Conclusie.
Dit boek is geen orchideeënflora. Het is wel een zeer nuttig boek om reizen naar en bezoeken aan orchideeënsites te plannen, uiteraard rekening houden met de bloeiperiode van de in een bepaalde site voor komende soorten. Ook al stelt de auteur in zijn inleiding dat hij geen exacte vindplaatsen meegeeft, toch zal dit boek richtinggevend zijn en een hulp om de soorten in de afzonderlijke sites te ontdekken, zélfs voor iemand die nog niet veel ervaring heeft met het zoeken van Europese wilde orchideeën. Dit boek is een aanrader én een niet alledaagse reisgids. En… eens de reis gepland aan de hand van dit boek, zal vanzelfsprekend blijken dat een goede orchideeënflora onontbeerlijk is. Hier vind je info over orchideeënflora: klik hier.
Dans son livre 'Die Orchideen Österreichs' (cliquez ici!), Norbert Griebl décrit toutes les espèces d'orchidées connues en Autriche.
Bien sûr, il existe de nombreux sites d'orchidées en Europe à visiter. Parmi cette multitude de sites, il a fait un choix intéressant, à savoir 85 sites d'orchidées européens qui méritent amplement une visite. Avec ce livre, nous visitons des sites intéressants dans ces pays:
Albanie, Bulgarie, Chypre, République tchèque, Allemagne, Estonie, France et Corsica, Grèce, Hongrie, Irlande, Italie, Croatie, Malte, Macédoine, Monténégro, Pays-Bas, Autriche, Pologne, Portugal, Roumanie, Slovaquie, Espagne, Turquie, Sud Tyrol, Suède et Suisse.
Dans chaque pays, l'auteur nous présente un ou plusieurs sites d'orchidées et répertorie un certain nombre d'espèces de plantes et d'orchidées qui s'y présentent.
Pour chaque site, l'auteur paye une attention particulière à une espèce spécifique de cette région.
Le livre est joliment illustré de belles à très belles photographies. Il existe une carte de distribution européenne pour chaque espèce d'orchidée proposée par site.
Le livre se termine par une bibliographie.

Conclusion
Ce livre n'est pas vraiment une flore d'orchidées. C'est un livre très utile pour planifier des voyages vers et des visites à des sites d'orchidées, bien sûr, en tenant compte de la période de floraison des espèces qui vivent dans un site particulier. Bien que l'auteur déclare dans son introduction qu'il ne donne pas les emplacements exacts, ce livre guidera et aidera à découvrir l'espèce sur les sites individuels, même pour quelqu'un qui n'a pas beaucoup d'expérience dans la recherche d'orchidées sauvages d'Europe. Ce livre est un must et un guide de voyage inhabituel. Et... une fois le voyage planifié sur la base de ce livre, il sera bien évident qu'une bonne flore d'orchidées est indispensable.
Vous trouverez ici des informations sur la flore des orchidées: cliquez ici.